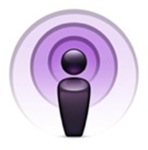 Today we bring you another in our series of Lost Treasures. We didn't get very many interviews at Anime Expo this year, and I had thought I lost the two that we did get in the Great Hard Drive Crash of 2012. Fortunately iTunes (believe it or not) unknowingly made an automated backup of them when I synced my iPhone (which I was using to record the interviews). So here, at long last, we present our two Anime Expo 2012 interviews. We interviewed Ejen Chuang of Cosplay in America as well as Peter Payne of J-List.
Important Note Please help us out by taking our quick audience survey. Also be sure and nominate us in both the Blubrry and Stitcher Podcast Awards. Your Supreme Leader commands you! 😉
Today's Theme: "crossing field" by LiSA, OP to the 2012 anime Sword Art Online. Get a Crunchyroll Premium Membership!
Links to stuff we talked about:
A First Look at Neon Alley
The Reverse Thieves announce the 2012 Secret Santa Project!
Otaku no Podcast on App.net
Nominate us for the 8th Annual Podcast Awards! (Updated)
Another Nomination Request: Nominate us for the Stitcher Awards!
Otaku Call to Action: Please Take our Listener Survey!
Do you know of any good anime cons? Please tell us about them!
NosillaCast (Get the App!)
91.8 The Fan
Anime Vegas, November 10-12, 2012 at the Cashman Center, Las Vegas, NV
Pacific Media Expo (PMX), November 9-11, 2012 at the Hilton LAX Airport, Los Angeles, CA
Cosplay in America
Cosplay in America: The Book
J-List (all products) or JBox (PG/kid-safe products only)

J-List is a peaceful island of Japanese pop culture for you
Podcast: Play in new window | Download (Duration: 25:32 — 11.9MB) | Embed