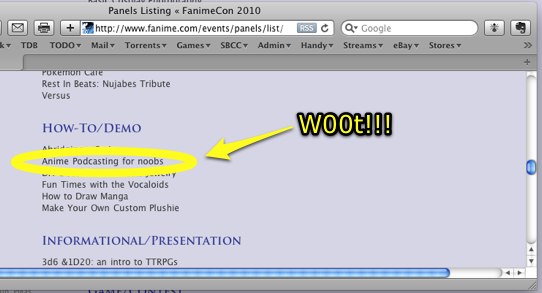 Well, those of you who have been particularly observant may have caught me making vague references to this on Twitter or Facebook, or on some of my past video podcasts.  And if you were paying attention to last week's audio episode, you almost certainly heard me announce this.  Well, now it's officially official: I will be putting on a workshop at FanimeCon!!
FanimeCon, to those of you not "in the know," is a rather nice anime convention held in San Jose, CA, around Memorial Day weekend each year.  Many moons ago, when I for a brief time lived in the Bay Area during my first (and, I am chagrined to say, rather unsuccessful) attempt at obtaining a higher education, I attended my first FanimeCon with my friend Charles (I remember seeing Iria: Zeiram the Animation – an anime most fans these days probably have never heard of – there when it was still fairly new – that's how long ago it was).  Unfortunately, because of having to move back home (remember, failed education?) I wasn't able to return until last year when, on a whim (and thanks to some unused train tickets that were about to expire that I found while cleaning my desk), I decided to check it out.  Boy was I glad I did, because man, has it grown!  When I went in 2000, attendance was a paltry 2,300; the attendance at the 2008 show (the most recent data I was able to find) was a whopping 14,926.  (No, I'm not gonna say it…)  The 2009 show, which is the one I went to, felt even bigger than that – I'd say at least 20,000.  That's still less than a half of the mega-cons (Anime Expo 2009, for example, with 44,000 attendees), but still quite impressive by my book.  Despite its growth, however, FanimeCon has still managed to remain a fun and worthwhile experience, and lacks the 'tude that you sometimes see at the larger cons; as I noted in my review of last year's event, it has that unique and rarely-seen mixture of big-con excitement and smaller-con friendliness and breadth of events.  Not surprising, as they to this day bill themselves as a con run "by fans, for fans."
This year's FanimeCon is shaping up to be yet another awesome event, with guests such as musicians LM.C and Haruko Momoi (who totally rocked my socks off at last year's FanimeCon – I'm so glad she'll be returning!); Daisuke Ishiwatari, creator of the Guilty Gear franchise; Hiroyuki Yamaga, one of the founding members of a little anime studio called GAINAX; and many others.  Aside from the usual con happenings (AMVs, Masquerade, a pretty happening dealer's room, gaming, etc.), FanimeCon also features a refreshingly broad lineup of panels covering a wide range of topics, including cosplay, gaming, entertainment, gatherings and debate, how-to/demo, manga, webcomics, music, working in the industry, and many more.
Well, yours truly will be responsible for one such panel, and if you've ever wondered how I put together this little dog and pony show we call Otaku no Podcast, you might want to stop by.  My workshop, "Anime Podcasting for n00bs" is currently scheduled for Sunday, November 30, at high noon.  So far only the preliminary schedules have been drawn up, so this time and date may change; also, since it's just a preliminary schedule, I don't yet have a room assignment.  I'll definitely let you know when I find out more.
While I'm at con, I'll also do my best to bring you some audio and video highlights from the event — and yes, I'll actually try and get you some real interviews for a change!  So be sure and keep an eye on the website and the podcast feed come Memorial Day weekend.  Bandwidth and technology willing, I'll be posting as much stuff as I can before collapsing in an exhausted quivering heap at the end of the day.
FanimeCon will be held on Memorial Day weekend, Friday-Monday May 28-31, at the San Jose Convention Center in downtown San Jose, CA. For more information, links to pre-register, etc., check out their website.

J-List is a peaceful island of Japanese pop culture for you