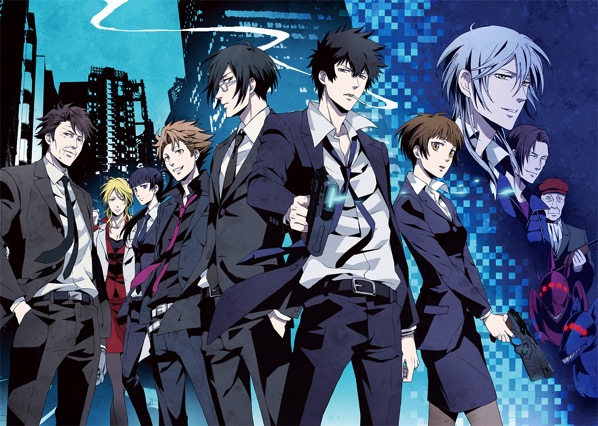 Sorry for the late review – it has been an even busier holiday season than usual, with multiple work and family commitments leading up through New Years even. Really tried to get this posted before the end of 2015, but unfortunately I couldn't manage that. But here it is at last!
For the past few years I have participated in the Reverse Thieves' Anime Secret Santa project. This group blogging experiment pairs up bloggers who recommend anime for each other to watch and review, only it's done Secret Santa-style, where you don't know who your recommendation is coming from. Each year I've gotten really good picks that I have enjoyed watching and reviewing; however this year's Anime Secret Santa choices were particularly hard to choose between – it seemed that my Secret Santa zeroed right in on my brainwaves (which is ironic given the series I chose to review, you'll see why in a bit) and picked three really good shows that sounded really interesting to me but that I had somehow passed up. The first, Spice and Wolf, was a character-driven fantasy/romance that seemed perfect given my love of other shows with great character chemistry. But since I had recently been watching some more lighter fare I was ready for some hard-hitting action/thrillers. Fortunately my Secret Santa did not disappoint, as they picked two very action-oriented series, Psycho-Pass and Mirai Nikki. I literally could not decide which one to watch and review… so I left it up to chance and flipped a coin. Fortunately, Psycho-Pass won out.
Psycho-Pass is set in a near future, in a seemingly perfect world, where citizens are assured a safe environment and a bright future thanks to the Sibyl system. A person's mental state can be instantly scanned and quantified, and such scanning is done routinely. If a person's "hue" (mental health) becomes clouded this causes their "crime coefficient" — a measure of how likely they are to commit a violent crime — raises. Individuals with a cloudy Hue and a high crime coefficient are either incarcerated and treated or — if their values are particularly high — eliminated. However some latent criminals choose instead to work with the Ministry of Public Security as "Enforcers," who work under "Inspectors," and use their criminal knowledge and tendencies to help track down other criminals. Meanwhile the rest of the citizenry live a seemingly peaceful and secure life, with Sibyl managing every aspect of their lives, including education and career choice.