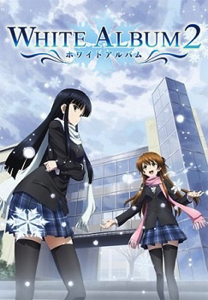 I have a confession to make. (No, not that kind of confession.) When I wrote last week stating that I wasn't able to finish my Secret Santa review on time, that may have been stretching the truth a little bit. I probably could have used one of my (very infrequent) Mental Powerups (or at the very least chugged a bottle of MORNING RESCUE!!!!) and sat down and hammered out a review; I might have even been able to get it posted before midnight on Christmas Day. But I chose not to, mainly because, in spite of the haphazard way I run this blog and podcast, I prefer to not leave anything halfway done (or done half-assedly) and I wanted to take the time and really think about what I had just finished watching before writing. But I did have one little ulterior motive: I wanted to watch my chosen Secret Santa anime, White Album 2, again. This is unusual for me because I usually prefer to wait a little while after finishing an anime before rewatching it. Also, in general, when considering which anime to watch next, I generally don't go for the romance genre. It's not that I actively hate this type of anime; it's just not the first thing I think of when looking for something new to watch. Even so, some notable titles in this genre have ended up becoming some of my all-time favorites. Maybe that makes me a closet romantic; I dunno. So for me to want to rewatch White Album 2 so soon after finishing it is, in a word, unusual, and shows that it most definitely made an impact on me. So I have one more anime to add to my list of "Anime That I Really Wouldn't Have Considered But Ended Up Watching And Really Liking."
White Album 2 tells the story of high school senior Haruki Kitahara and his fellow light music club member Takeya who've got a big problem — all of the other club members have suddenly left the club, mere weeks before the school festival, where they had wanted to perform! Being an all-around nice guy, Haruki tries desperately to find replacements, but isn't meeting with very much luck. Until one day, while practicing his guitar in the music room, he starts playing the chords to an old but popular song, White Album, only to be suddenly joined by a mysterious pianist and vocalist — and they sound really good together. Who are these mysterious players, and can he get them to join the band? Of course there's much, much more to the anime, but you'll have to watch it yourself if you're curious, I'm not gonna spoil it for you!
(By the way, in case you're wondering if there is a White Album 1, yes there is, but, although both it and White Album 2 take place in the same universe, they are completely different stories. They are only linked by the songs "WHITE ALBUM" and "SOUND OF DESTINY," which were written and/or performed by the main heroines of White Album and figure prominently in White Album 2. And now you know.)
Anyway, you can probably guess by now how this review will go, but since you're here anyway, why not stick around and continue on with my review?