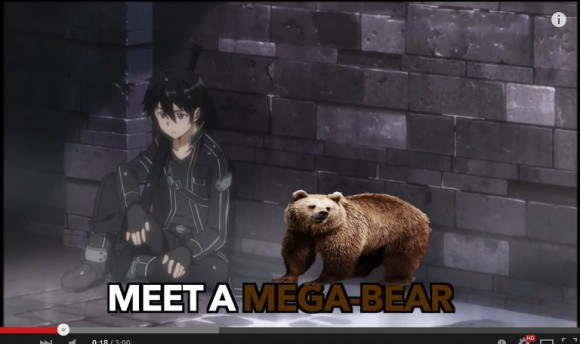 When listening to music, it's not always easy to pick out what the artist is actually singing, even under the most ideal circumstances (i.e. when a singer isn't shouting into his mike like they do in death metal or whatever.) Back in the good old days, one would have liner notes which often had the lyrics printed on them. These days, of course, we have the always-on, always-available Internets, and thanks to various websites we can instantly look up a song's lyrics. Still, there have been some pretty humorous misheard lyrics over the years, one of the most famous being from Jimi Hendrix's song "Purple Haze," where he sang "Excuse me while I kiss the sky," but which most people humorously misheard as "Excuse me while I kiss this guy." The popularity of misheard lyrics continues to rise, because some of them can be pretty damn funny. You can look through quite a bunch of them at the apporpriately-named website Kiss This Guy.
Well, anime songs (the songs used during the opening and ending credits of just about every anime under the sun) are not immune to this phenomenon, even though they're (mostly) sung in Japanese, which most of us Westerners don't speak. You'd think that not being able to understand the language would hamper one's ability to find "kiss this guy" style moments, but in fact, it seems to be the opposite – our brains are terribly good at pattern-matching, picking known patterns out of otherwise unintelligible fields of data; and as it turns out, the sounds of the Japanese language can sound humorously similar to certain English phrases. A recent RocketNews24 article points out YouTube user AzukanoAMVs, who recently put together an absolutely hilarious video of just a few examples. Check it out on YouTube or via the embedded player below the cut. (Warning: somewhat NSFW. Also be warned, these are really freaking hilarious, don't have soda/food/etc. in your mouth when watching them, or else you risk splattering your monitor/walls/coworkers/etc.!) The RocketNews24 article collects some examples, including what the original Japanese was supposed to say (translated into English as well.) For the other examples, you can find the lyrics of the songs at a site such as Anime Lyrics
Thanks, guys and gals at RocketNews24 and AzukanoAMVs. You totally made my day.

J-List is a peaceful island of Japanese pop culture for you