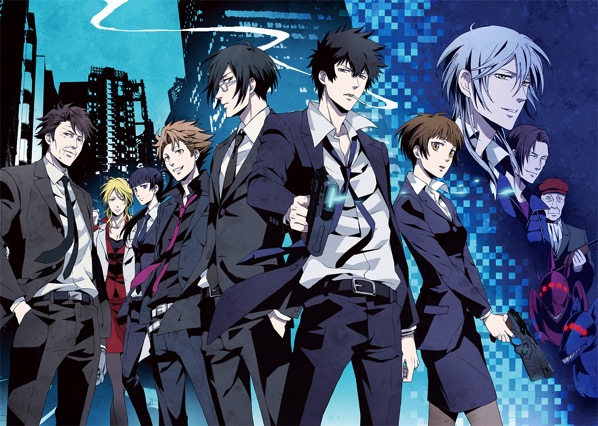 Sorry for the late review – it has been an even busier holiday season than usual, with multiple work and family commitments leading up through New Years even. Really tried to get this posted before the end of 2015, but unfortunately I couldn't manage that. But here it is at last!
For the past few years I have participated in the Reverse Thieves' Anime Secret Santa project. This group blogging experiment pairs up bloggers who recommend anime for each other to watch and review, only it's done Secret Santa-style, where you don't know who your recommendation is coming from. Each year I've gotten really good picks that I have enjoyed watching and reviewing; however this year's Anime Secret Santa choices were particularly hard to choose between – it seemed that my Secret Santa zeroed right in on my brainwaves (which is ironic given the series I chose to review, you'll see why in a bit) and picked three really good shows that sounded really interesting to me but that I had somehow passed up. The first, Spice and Wolf, was a character-driven fantasy/romance that seemed perfect given my love of other shows with great character chemistry. But since I had recently been watching some more lighter fare I was ready for some hard-hitting action/thrillers. Fortunately my Secret Santa did not disappoint, as they picked two very action-oriented series, Psycho-Pass and Mirai Nikki. I literally could not decide which one to watch and review… so I left it up to chance and flipped a coin. Fortunately, Psycho-Pass won out.
Psycho-Pass is set in a near future, in a seemingly perfect world, where citizens are assured a safe environment and a bright future thanks to the Sibyl system. A person's mental state can be instantly scanned and quantified, and such scanning is done routinely. If a person's "hue" (mental health) becomes clouded this causes their "crime coefficient" — a measure of how likely they are to commit a violent crime — raises. Individuals with a cloudy Hue and a high crime coefficient are either incarcerated and treated or — if their values are particularly high — eliminated. However some latent criminals choose instead to work with the Ministry of Public Security as "Enforcers," who work under "Inspectors," and use their criminal knowledge and tendencies to help track down other criminals. Meanwhile the rest of the citizenry live a seemingly peaceful and secure life, with Sibyl managing every aspect of their lives, including education and career choice.
Plot/Storyline
The "dystopian future" trope has been used in a number of sci-fi works, both anime and western; however Psycho-Pass's premise hits particularly close to home given the recent revelations of state-sponsored mass surveillance. The sort of pervasive mental scanning in the world of Psycho-Pass is the kind of ultimate mass surveillance that I'm sure every intelligence agency on Earth dreams of. And it makes us ask ourselves the question: at what cost does this seemingly secure world come, and is it one we are willing to pay? In addition, the show explores some interesting psychological topics, such as whether or not it is acceptable to punish someone for a crime they didn't yet commit — or, in other words, just because someone has the potential to commit a violent act, does that necessarily mean that they will do so? Philosophy frequently comes up, but unlike, say, Ghost in the Shell, it never gets in the way of the action or the flow of the story, so for example you don't have characters going into episode-long monologues or debates. This show marries plot, action and character almost seamlessly. Most of these "big questions" go unanswered, but really that's a good thing, since these issues are largely unresolvable anyway. It's the way the various characters deal with them that is interesting.
Characters
The characters are on the whole well-developed, intriguing and believable. The main female protagonist, Akane Tsunemori, does not fall into any of the typical anime heroine tropes, and her character growth is probably the most drastic of all. In fact none of the female leads fall into any of the common tropes, and their character designs are refreshingly free of unnecessary elements (moe, fanservice, etc.) which would have been inappropriate given the subject matter. The Enforcers, far from being the bloodthirsty criminals we would expect, are actually quite intelligent and well-spoken, and very likable, more so than many of the so-called "normal" people. And Makishima, the villain, is far from the typical cardboard cut-out villain.
Animation/Visuals
The animation is fluid and looks great. Action scenes flow nicely, and it doesn't have an overly 3D feel to it. The various settings are a study in contrast: the bright and flashy city where the "normal" citizens live, compared with the dark, dirty, and atmspheric crime scenes; and the harsh, sterile MWPSB offices, compared with the Enforcers' living quarters, which are full of personality, look "lived in" and are downright "homey." And the Dominators, the multi-purpose weapons wielded by the Inspectors and Enforcers, are some of the coolest weapon designs I've sen in quite a while, and are totally badass.
Sound
The soundtrack is generally fabulous, with some excellent OP and ED tracks (OP#2 in particular is still stuck in my head, it's so damn catchy.) Incidental music and sound effects sets the mood perfectly but doesn't get in the way.
The dub is yet another testament to how far anime dubs have come since the bad old days. It is clear that the actors studied the characters they were portraying. In particular Robert McCollum (Kougami) and Alex Organ (Makishima) portrayed their characters' complex and sometimes contradictory natures perfectly.
Overall
Psycho-Pass is a very thought-provoking anime with complex, interesting characters, yet it never lets its more cerebral elements get in the way of good old pulse-pounding action and suspense. If all you're looking for is a great action series or a great detective story, then you won't be disappointed. But it will definitely leave you with a lot to think about.
Rating:
Rating:





Verdict: Highly Recommended! Definite Watch
Watch it on FUNimation (note: requires membership)
Buy it on Amazon: Part 1 Part 2
Buy Psycho-Pass Part 1 at Amazon
Buy Psycho-Pass Part 2 at Amazon

J-List is a peaceful island of Japanese pop culture for you