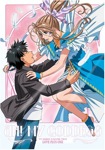 When Narutaki and Hisui of the Reverse Thieves announced the return of the Anime Secret Santa project, I was elated.  When I participated in last year's event, I had a great deal of fun, watched a pretty decent series I had never heard of before, and "met" a whole bunch of cool bloggers.  I was so excited that I would be participating this year as well.
Unfortunately, this year, things didn't exactly go as I had hoped…
My three Secret Santa picks were Ah! My Goddess, Saki, and Special A.  Oddly enough I had just finished watching Goddess, and since I felt that it would be kind of "cheating" to review a series I had already watched anyway, eliminated it as a possibility.  Saki I could easily watch online thanks to my Crunchyroll membership (best deal in town if you want to watch anime legally and help the production companies, in my book).  It was also one that I had wanted to watch, so it wasn't my first choice either (my feeling is that the spirit of Anime Secret Santa is to watch something I haven't heard of or intended to watch).  That left Special A, which was available on DVD and could also be streamed online at Amazon's video on demand service.  Unfortunately I can't afford any DVDs (or Amazon's $1.99 per episode streaming service) at the moment, so that was out.  (thanks to some slowdowns at work and needing to save up for next year's cons, I am back in "broke otaku" mode.)  So I was all set to watch and review Saki., but as the fates would have it, I have had an extremely busy and stressful end of year, and just could not get to it. And now here we are on Christmas Day, and I had a choice: marathon Saki and bang out a halfhearted review (which still probably wouldn't be done until the middle of next week), or sit down and bang out a quick but heartfelt (is that the opposite of halfhearted?) review of Ah! My Goddess (which I at least watched already).  I figured that doing a writeup on Goddess would be the less lame of the choices (but not by much).  And here we are.
So, with all that out of the way, click on through the cut for my review of Ah! My Goddess.
Summary: Keiichi Morisato is your typical college student and all-around everyman… except he has quite possibly the worst luck in the universe.  That is, until one night, when he accidentally dials the Goddess Help Line and summons the beautiful Belldandy, Goddess First Class, Second Category, Unlimited License, to grant him one wish.  Thinking that someone is playing an elaborate practical joke on him (of course!) Keiichi asks for Belldandy to stay with him forever… and is surprised when the wish is granted.  Add two other mischievous goddesses, evil spirits, demons, a caring but somewhat nosy sister, and jealous campus hotties, and poor Keiichi is in for one heck of a ride.
Story: Bring me a more stereotypical anime plotline, and I'll sell you a nice red bridge in San Francisco.  For cheap.  A big ol' helping of magical girl with a side of romantic comedy, with a dash of slice-of-life thrown in.  Still, I as a romantic am a sucker for these type of stories.  And there was quite a bit of pretty good comedy in there.  There are quite a few fairly cliched romantic comedy moments which make you want to facepalm, but they played up the comedy so it's not very irritating.  A good mix between comedy, romance, and even a little action thrown in to the mix.  All these elements were mixed up in just the right proportions I think.  While the story did get a bit slow at times, it kept me watching.  There's something here even if you're not the biggest romance story fan.
Characters: At first I thought Keiichi was a spineless wimp (sorry, Shinji Ikari has scarred me for life), but as the series progressed parts of his character began to show through, and we find a genuinely caring soul who would go out of his way to help his fellow human.  Ultimately he's an everyman, just like you and me, and in that way I really empathize with him.  Belldandy on the other hand, while sweet and kind, struck me as too much so, sort of too good to be true.  Apparently they did change her character somewhat for the anime: I was discussing this with a friend who is familiar with the manga, and according to him, Belldandy had a bit of a vengeful and jealous streak in her manga incarnation.  The supporting cast fills out the show very nicely – the auto club members are hilarious, and Belldandy's sisters Urd and Skuld serve as excellent foils for her straight-arrow character.  However Skuld was a bit too bratty for my taste, but that may have been due to the way her American voice actress played her (more on that below).  I'm definitely going to rewatch this with subtitles and the original Japanese audio.
Animation: In a word, nothing to write home about.  (Okay, I guess that was four words.)  Though I do like the way they animated the effect whenever somebody used their magical powers, and Belldandy's angel Holy Bell is positively gorgeous.  Other than that, the animation was reasonably smooth; there is a good level of detail in the characters, costumes and scenes; and the color palette was bright and vibrant.  I don't have anything exceptional to say about it, nor do I have anything really bad to say about it either.  I will say that this show is neither overly violent nor overly ecchi, so it's pretty suitable for all ages I would say.
Sound: Again, nothing to write home about.  The opening theme was pretty catchy (It had a sort of Celtic motif to it, which I'm a sucker for), but other than that, the rest of the music was fairly low key, light melodies.  It fit the laid back mood of the series.  However I will say that the English dub is not one of my favorites; definitely less than average, but not absolutely horrid.  Skuld's voice actress in particular really got on my nerves.  However I felt that Urd's VA hit it spot on.  Anyway I definitely recommend watching this one subbed.
Bottom line: whether you're a romantic at heart or just like a few laughs, Ah! My Goddess has something in it for you.  As long as you're willing to check your brain at the door and accept probably one of the most cliched story archetypes in anime, you will be entertained and amused.
Characters:





Story:





Animation:





Sound:





Overall:






J-List is a peaceful island of Japanese pop culture for you