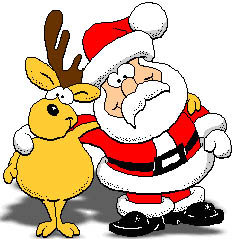 The Reverse Thieves have just announced their 2011 Anime Secret Santa project!
If you don't know what in blazes I'm talking about, go back and read our post about it a couple years ago. But, for the lazy, here's the Reader's Digest version: basically, you e-mail your name, blog title and url, and a link to the list of anime you've watched (from sites such as MyAnimeList or Anime-Planet (both are free)), and the Reverse Thieves will randomly pair you up with another participant. You then look thorugh that participant's list of anime and then suggest to them three anime that they might enjoy. Only — your identities are kept secret until the very end. The whole idea is to help get some inter-blog anime review participation going on, as well as broadening peoples' horizons and getting them to maybe step out of their comfort zones and try something different.
We had a great deal of fun participating in years past, and with any luck we will be participating once again this year.
Unfortunately this almost slipped under my radar, and so I missed this when they announced it over a week ago. Which means that you have until the end of today (Wednesday, October 12) to respond if you're interested in participating. Just e-mail your name, your blog's name and url, and the link to your anime list, to secretsanta.rt@gmail.com with the subject "Secret Santa Participant" But remember, you only have until the end of today, so you better hurry!

J-List is a peaceful island of Japanese pop culture for you