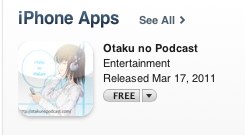 We are pleased to announce that a brand new version of the Otaku no Podcast app is now available in the app store!
New features include:
Completely rewritten from scratch. Faster performance, and follows the iOS user interface design more closely.
No longer asks for your location. (Note: The location prompt was due to a mistake on my part when creating the first version of the app. No actual location data was ever collected or stored.)
Supports Push Notifications – get notified instantly when new podcasts or blog posts are published
Lets you listen to and/or watch the latest audio and video podcasts, as well as previous podcasts
Supports background audio and remote audio control
Option to let you view blog posts in Mobile Safari
You can now share interesting blog posts and/or podcasts with others via e-mail or Twitter (Twitter sharing requires iOS 5)
New Con Calendar – check out our upcoming anime convention schedule
Contact Us now lets you send us e-mail as well as call our voice mail line (requires an iPhone) or via Skype (requires the free Skype app be installed, available for iPhone/iPod touch and iPad)
The app is now ad-supported, using Apple's iAd ad network. We feel that these ads are reasonably unobtrusive — they don't bog down your phone, or jump out at you and annoy you like many other ads do. However, if you wish to show your support for Otaku no Podcast directly, there is an option that will allow you to remove all ads from the program for a small one-time fee.
Of course, with a rewrite of this magnitude, there are bound to be a few bugs still. If you run into one, we'd appreciate it if you could let us know about it.
Go grab the app today (it's free). You can also check out a video (also embedded below the cut) on how the app works.
Finally, for all you Android users out there, don't fret; my friend is hard at work on an Android version of the app, which should be out in the Android marketplace soon.

J-List is a peaceful island of Japanese pop culture for you