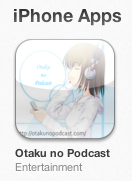 After over one year in development, I am pleased to announce that Version 3.0 Build 224 of the Otaku no Podcast app is now available on the App Store, chock full of new features!
NEW! Now supports the 4-inch Retina screen on the iPhone 5 and iPod touch (fifth generation).
NEW! Otaku no Radio. Listen to our streaming anime/Jpop radio station. If you hear a song you like, you can buy it on iTunes too!
NEW! Search field lets you quickly search blog posts and podcast episodes for exactly what you're looking for.
NEW! ConFinder. Find an anime con near you, wherever you are! (Note: this feature is still new, and we are adding anime cons to the database. If you know of a good con in your area, please let us know about it!)
NEW! Photo Gallery. View our photos taken at anime conventions.
NEW! You can now share interesting content via Facebook and App.net.
NEW! Option to open any clicked URLs in Google Chrome (requires Google Chrome to be installed).
Lots of bug fixes.
The app is compatible with all iPhones, iPod touches and iPads running iOS 5 or later. (the app is not yet iPad optimized, so it will run in iPhone compatibility mode. I hope to have native iPad support in place in the next major version of the app.)
Go grab it today on the iOS App Store!

J-List is a peaceful island of Japanese pop culture for you