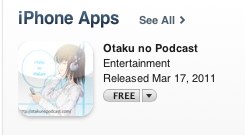 Do you own an iPhone, iPod touch, or iPad? Then go check out the shiny new Otaku no Podcast app on the iTunes app store! With our fine new app you can listen to and watch our latest audio and video episodes; read our latest blog posts; see what we've been up to on Twitter; and contact us by phone or email.
The app is compatible with any device (iPhone, iPod touch, or iPad) running iOS 3.1 or later. Unfortunately it isn't yet optimized for the iPad (though it does work just fine in iPhone emulation mode); I'm working on adding iPad optimizations for the next version, as well as some other miscellaneous fixes and additional features.
So go check it out! It's free in the App Store.

J-List is a peaceful island of Japanese pop culture for you