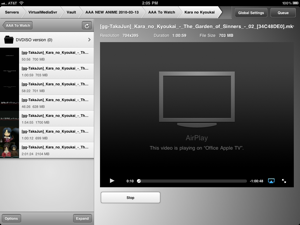 The Apple TV is a decent little media center streaming box. It improves in every way over its predecessor – smaller, lighter, faster, and doesn't give off over 9000 BTU of heat energy.
With it, you can rent and stream any of the (pretty large) anime collection that's now available on iTunes, as well as Netflix, and you can stream any of the iTunes content that's loaded on your PC or Mac. The problem with the latter is that you would have to transcode most of your anime collection so that it plays on iTunes — a fairly technically involved process — and you lose such niceties as subtitle support and multiple language audio tracks. Which means it isn't really useful at all. But at only $99, it isn't too bad price-wise.
Well, if don't own one, you just might have a reason to buy one after reading this post. And if you already own one, you can stop tearing your hair out in frustration. Because the Apple TV is now a lot more useful to us anime fans, thanks to the wonderful piece of software I'm about to describe.
Air Video, which we've written about before, is an awesome video player app for the iPhone, iPod touch and iPad. It will let you stream your video files from your computer (such as that anime that you have, ahem, acquired from various sources) and play it on your iOS device. The "secret sauce" that makes this so unique is that it will automatically transcode your files in a format that your iDevice can play natively. So you don't have to go through all that video transcoding voodoo yourself. Plus it supports all the standard subtitle formats (SRT/SSA/ASS), either as separate files or "baked in" to an MKV file. Which is really great news for us anime fans. And it's reasonably priced as well (just $2.99).
Well, Air Video just recently added AirPlay support in its latest version. AirPlay is a new technology from Apple that will let you stream content — audio and/or video — between your devices, including iOS devices and the new Apple TV 2. So what does this mean to you? It now means that you can, using the Air Video app, stream all of your anime, including subtitles, and watch it on your Apple TV that is (presumably) hooked up to your large screen HDTV. To get this kind of functionality (streaming content from your computer) would ordinarily require a more costly and complex to set up media center box such as the Boxee Box or WD TV Live; the problem with those devices is that they tend to be kind of dodgy, and they don't "plug in" to the iTunes ecosystem as tightly as the Apple TV does. So now you get the best of both worlds!
I've tested this extensively and it works wonderfully.
So what are you waiting for? Go get Air Video on the App Store today! Note that for the new AirPlay functionality, you will also need to install the latest beta version of the Air Video server – versions are available for both Windows and Mac.

J-List is a peaceful island of Japanese pop culture for you