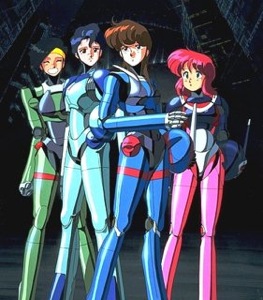 I've been busy working up the next show, where I'll FINALLY be completing my "Anime on the Cheap" segment I started over 9000 years ago (not really, but close enough), and so I've been exploring all the options available for downloading and streaming anime on the Internet.  But I came across something that I really have to share with you right now, so here you go.  Consider this today's Cool Find.
Us anime fans truly live in a blessed time, thanks to the advent of computers, cheap (well, relatively speaking anyways) and fast (again, relatively speaking) Internet connections, and streaming technology.  Gone are the days when you'd have to wait forever for a series to get licensed, and once it did, you'd have to wait over 9000 months between DVD releases, which you'd have to pay $30 or so a pop for.  These days we live in a world where you can stream your favorite anime whenever and wherever you want, and — this is especially cool — often you can stream the latest and greatest series from Japan, literally minutes after they were broadcast there, and usually for free (or a very low monthly membership charge). (However, unlike most technology pundits, I wouldn't go so far as to say that physical media is dead — I still buy plenty of anime DVDs (and now Blu-rays) — but it is definitely not the primary method of consumption any more.)
Of course, when you think online anime streaming, Crunchyroll comes to mind.  They are indeed the darlings of the online anime streaming world, with a stable of many officially licensed shows and simulcasts, and an impressive list of partner companies and investors.  But there are others.  Not only do many of the anime licensors (FUNimation, Bandai, etc.) have their own streaming sites, but traditionally non-anime sites such as Hulu are now starting to stream anime.  Hulu, the streaming site created as a joint venture between NBC-Universal, Fox, and ABC, has quite a collection of anime up for streaming, as it turns out.  And they've just added one of my all-time favorites — and the title that got me into this whole anime thing in the first place – Bubblegum Crisis.  Set in a post-apocalyptic Tokyo (called "Mega Tokyo"), this classic 80s cyberpunk/mech/fighting girls anime tells the story of the Knight Sabers, four renegades out to fight a battle against the evil Genom corporation (think Microsoft) and their humanoid robot "Boomers" that regularly crash and go berserk (again think Microsoft).  The show is thematically similar to, and is strongly influenced by another traditional geek favorite, Blade Runner.  The traditional cel-based animation is gorgeous (and has a characteristic that modern digitally animated shows lack IMHO) and the classic 80s pop/rockish soundtrack still sounds surprisingly good even today.  This is truly a treat for the eyes and ears.
Unfortunately they are streaming the dubbed version of the show.  While it's not my favorite, it is at least reasonably competently done and definitely listenable, and is a darn sight better than most of the other dubs of that period.  (But it has one major flaw: they sing the song lyrics in English.)

J-List is a peaceful island of Japanese pop culture for you