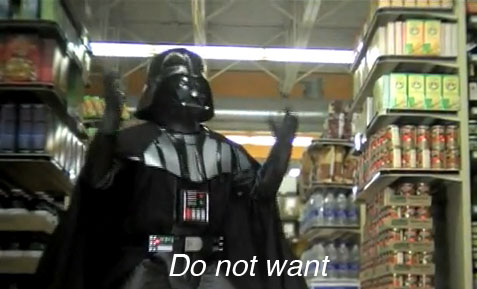 A long time ago, in a grocery store far, far away…
Sure, life in the Empire looks pretty glamorous.  You get a shiny powerful spaceship capable of destroying entire planets with a single blast.  You get to rule over legions of subjects that cower at your might.  You get cool powers that you can use to crush your enemies (and win over the ladies).  And you can participate in cool dramatic lightsaber duels.  Unfortunately it's not always so… especially if you're Chad Vader, the inept, less charismatic younger brother of everybody's favorite Sith Lord, Darth Vader.  Without the necessary skills to join the Empire, Chad is relegated to living his life with the goal of attempting to take over Empire Market, a grocery store filled with crazy, offbeat employees and even weirder customers.  And thus forms the story of Chad Vader, a fun spoof of Star Wars (as well as many other sci-fi movie concepts) produced by indie filmmakers Blame Society Productions.
The story of how Chad Vader came to be is one of those great stories that illustrate the power of social media.  Friends Matt Sloan and Aaron Yonda created the series for a short film festival, only to have it canceled after two episodes.  Rather than giving up, however, they decided to release the series on YouTube… to tremendous success.  Chad Vader has appeared on several notable magazines and TV programs, and Matt Sloan, who provides the voice of Chad Vader, was even selected as the voice of Darth Vader in a few video game titles, including Star Wars: The Force Unleashed.  It's even been favorably viewed by The Man himself, winning the George Lucas Selects award for the Official Star Wars Fan Film Awards of 2007.  They've even published several DVDs of the series along with various other pieces of show-related memorabilia (Merchandising!  Merchandising!).
Definitely worth a look, whether you're a Star Wars fan or not.  Check out Season 1, Season 2, and Season 3 (the current season) on YouTube.

J-List is a peaceful island of Japanese pop culture for you