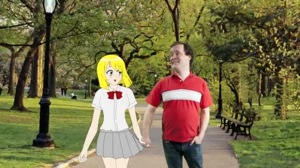 C'mon, admit it. I'm sure that, at least once or twice in your life, you've wondered what it would be like if you could date your favorite anime character. Well, as the old saying goes, be careful what you wish for, because you might get it, and it might not be quite what you'd imagined it to be…
My Anime Girlfriend is a fun series of web shorts that details the life and adventures of Sid, your plain old everyman, who's been extremely unlucky in love. One day his well-meaning colleague sets him up with Yuruki, a cheerful and very animated girl. And thus begin their misadventures in life and love, while taking on various anime tropes and stereotypes along the way.
This fun series is brought to you by the writer & executive Producer of Comedy Central's Ugly Americans, and features Patrick Shepherd, John Gemberling, and the voice of SNL's Abby Elliott.
Unfortunately there are only 4 episodes made so far. This is a really neat idea and I sincerely hope that the creators will continue with it; there is certainly no shortage of anime tropes and stereotypes that can be explored in any number of doubtlessly entertaining ways.
Go check it out today! Video of Episode 1 below the cut.
(Thanks to Twitter follower @predederva for this most excellent Cool Find!)

J-List is a peaceful island of Japanese pop culture for you