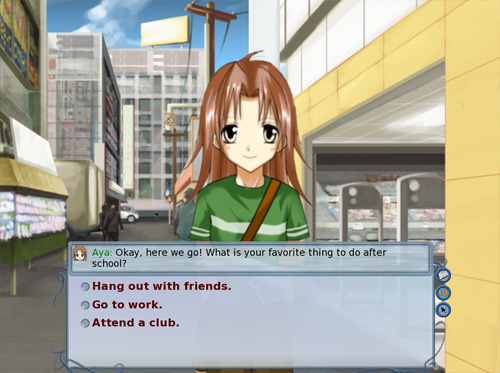 The dating sim game is one of those quintessential staples of otaku culture.  Equal parts visual novel, choose-your-own adventure, "sims" style simulation, and harem anime, this style of game basically puts you, the (usually) male protagonist, in various situations with a variety of (usually) females, and your job is to talk to (or otherwise interact with) them as you go through your (virtual) daily life.  By making the right conversational/action choices, you can raise a character's "love meter," eventually causing them to "date" you (at which point, congratulations!  A Winner is You!).  If you fail to accomplish this within the proscribed time limit, then… oh well, better luck next time! Many of these titles do in fact include salacious content, but there are many titles that don't.  (Also some games are released in both "explicit" and "tame" versions.)
Most of these games are of course produced in Japan, and remain largely unknown to a non-Japanese audience.  In recent times however a few companies have arisen that license many of the more popular titles and translate and release them for western audiences.  Some of the more well known of these include JAST USA, Aksys, and MangaGamer.  And, like the anime and manga worlds, there are quite a few unofficial fan translations out there as well.  There are a very few non-Japanese developed games in this category, but the love-sim industry remains largely Japanese-dominated.
Well one company is hoping to change that.  Okashi Studios, founded in 2005 and based in San Francisco, has been working these past five years to bring to market one of the first full-fledged American-made commercial dating sims — and their efforts are finally available for public viewing.  Shira Oka: Second Chances puts you in the role of someone who has been given the chance to go back in time and relive their past.  Will you make the most of your life?  Will you end up with the girl of your dreams?  Only time will tell.  The game is, of course, filled with the traditional assortment of female character types, and has the typical anime art style.  The game also gives you an interesting mix of traits that you can alter for character customization.  And all of this is backed by an impressive roster of American voice talent.
Unfortunately the game isn't complete yet (they've been in development since 2005).  However, playable demos are now available!  Grab 'em today for Windows (alternate download site) and Mac (alternate download site).  (Good on them for supporting Mac right out of the gate!)  (UPDATE: The download is also available via BitTorrent.)  The company hopes that this will spur on the development and growth of the American bishoujo industry.
You can also take a look at the promo video below the cut, and find many other videos (including some gameplay examples) on their YouTube channel.

J-List is a peaceful island of Japanese pop culture for you