We here at Otaku no Podcast are committed to openness and transparency.  To this end I am starting a new series of periodic reports where we will inform you, the listening/viewing audience, exactly how much we've made off this website, and how it's going to use.
This site (and associated podcast) is very much a labor of love for me.  (Plus it gives me the excuse to play with geeky things like microphones, web server software, etc.)  And, to be brutally honest, it costs me a fair amount to run.  The server costs me $60/month (although since I also run my personal email and website, as well as several friends' websites off of it, it's not fair to associate that entire cost with Otaku – if I had to divvy it up, I'd say Otaku's share is maybe $20-30 per month).  There's also domain renewal fees, which are about $30 per year.  (ICANN, the domain registrar, is in the process of raising their rates, so I don't have an exact figure for this)  Of course, since this is my personal hobby, I don't mind paying for it.  Still, I'm not the sort to turn away any assistance, and to that end we have two money-making methods in place here.  (Although, "money making" is a relative term – as you'll soon see, we're not exactly talking gobs of money here…)  Read below for the current state of things, and how the funds will be used.
Google AdSense: The most obvious manifestation of this is the ads that you see at the top and side of each page.  Less obvious is the "search" box located just above the right ad bar.  Any time you click an ad or perform a search, we get credited a miniscule amount.  As of this past June 30, we've made a grand total of $8.97 through these.  Unfortunately the money is currently held up in Google (I'm in the process of setting up direct deposit to my Internet-use checking account); however when I do get it, I will probably put it in reserve to help pay for our domain renewal which is due in January.  (I admit I briefly debated maybe taking it and going to lunch at either McDonald's, KFC or Pizza Hut…)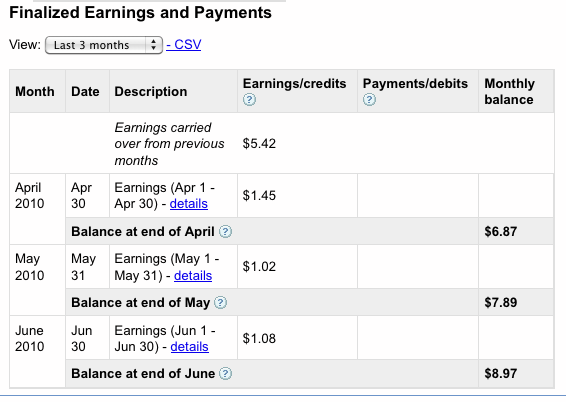 Amazon Associates:  Every time we review an anime product, or I blog about it, etc., you will see a shiny happy link to said product that takes you to Amazon.  If you buy that product — or any other product at Amazon, as long as you don't close your browser or clear your cookies in the meantime — we get a little percentage.  It doesn't cost you anything extra, and it gives us a little sumthin' sumthin'.  (So if you ever decide one day to completely upgrade your home theater setup, keep that in mind 😉 ).  Thanks to your purchases, we have made a grand total of $27.06.  Unfortunately, due to an error I made when setting up my Amazon account (which I have since corrected), this first disbursement to me came in the form of an Amazon gift certificate.  (Almost missed it too – it got caught by my spam filter)  So I had no choice but to spend it at Amazon.  😉  Thanks to this, I was able to get some much-needed supplies for the podcasting and photography workshops I recently gave at Anime Expo.  I even had a little left over, and so was able to pick up the Evangelion reboot Blu-ray thanks to a sale FUNimation was putting on.  This is of course for a review I'll be doing for the podcast.  (Remember, we're not affiliated with any distributors, so everything I review, I pay for out of my own pocket).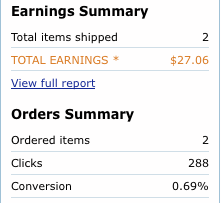 J-List is a peaceful island of Japanese pop culture for you