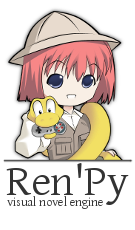 During my recent flirtation with visual novels, a question popped into my head: is there such a thing as a game mod for visual novel/dating sim type games? "Modding" a game is when you take the game's engine and modify or otherwise hack it to add your own content into the game, fundamentally changing its gameplay. One of the most famous examples of this is Counter-strike, which was originally developed as a mod for the popular first-person shooter Half-life. The PC gaming culture has a rich tradition of game modding, where inventive folks take popular games such as Quake, Unreal Tournament and others and make their own unique creations out of them. Well, when I put the question of whether or not dating-sim mods exist to Google, I found something even better – Ren'py.
Ren'Py is a fully Open Source visual novel game engine. With it you can create anything from a simple story with pictures and sound that you "read" by clicking through it, with no decision points (called a kinetic novel), all the way up to a full-blown dating-sim, with multiple characters and decision points. Its scripting language is really easy to use, making it easy for even a novice to create a kinetic novel or simple dating-sim. However it leverages the full power of the Python scripting language, allowing you to create extremely complex character interactions and scenarios. Its extremely powerful graphics and audio engine lets you composite multiple character images over a background, with transitions, transforms, animations, background music and sound effects. In short, it provides all the tools necessary to create even the most complex games of this genre. But best of all, it's completely free and open source, and the authors allow you to freely distribute the games you create with it, even allowing you to sell them commercially. It is compatible with Windows, Mac, Linux and Android smartphones/tablets.
To learn more, and to download your own copy so you can start playing with it, visit the Ren'py home page. Or if you're just in the mood to play someone else's games (or you want to see the power and variety of games you can create using this fantastic tool), check out the Ren'py games list, a comprehensive list of Ren'py titles.
This is a fantastic toolbox and our hope is that the many creative people out there in the community can take this and run with it, and help create our own doujin software industry.

J-List is a peaceful island of Japanese pop culture for you