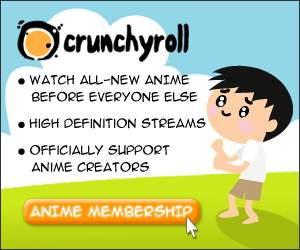 We are pleased to announce that we are now a Crunchyroll affiliate!
Crunchyroll is quite possibly the best thing to come around for us anime fans, and is the easiest and cheapest way of enjoying 100% legal streaming anime while supporting the companies that create it. They actively go after the latest and greatest anime titles, as well as maintain a back catalog of over 200 titles.
You can access most of the site for free. But if you pay for a Premium membership, not only do you help support the people and companies that create anime, you also get access to some cool extras. For one thing, you get access to the full back catalog (only a subset of the older titles are available for free). You also get — and this is the big one — same-day simulcast. Yes, on the same day that any given anime episode comes out in Japan, you can watch it on Crunchyroll, complete with English subtitles. You also get access to high-quality HD (720p and 1080p) streams. And not only can you watch Crunchyroll on your computer, but with a Premium membership, you also can use their apps for iOS (iPhone, iPod touch, and iPad), Android, as well as set-top boxes by Boxee and Roku. And finally, if you're a fan of live-action Japanese or Korean dramas ("dorama") they've got those too.
What will all of this cost you? Very little. For an anime- or drama-only Premium membership, you pay the low low price of just $6.95 per month. Or if you want both anime and drama, that'll run you $11.95/month. Better still, if you're willing to pay for multiple months in advance, the price drops to as low as $4.99/month!
So what are you waiting for? Get a Crunchyroll Premium Membership today! If you sign up through any of the CR links/banners on our site, we'll get a little cut (it doesn't cost you anything extra), which goes towards keeping the website up, paying for server and bandwidth, equipment for the studio, etc.

J-List is a peaceful island of Japanese pop culture for you