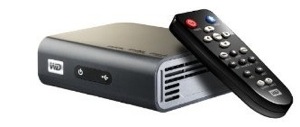 This is sort of a half-Cool Find, half-review type article.
For the last few years I have been on a quest — a quest to free my anime from the confines of my computer screen.
Many others out there have shared this quest, I'm sure. After all, although watching anime on your computer is nice (especially with the mega-HD resolution monitors of today), it's still nice to get away from the computer every now and then. Maybe we want to consume our anime while out and about; fortunately there are devices and software that make it relatively easy to do so, such as iPods, iPhones, iPads, Android smartphones/tablets and the Archos 5, and software such as Meridian, Air Video, and Crunchyroll for iPhone or Android.
But what if we want to enjoy anime on the big screen, using your home theater system?
This is particularly desirable nowadays, when more and more anime are being made in HD quality with multi-channel surround sound. The problem however is getting your anime to the big screen. You could hook your computer up to your home theater system, but that's a rather clumsy and complicated solution, and most computer interfaces aren't well suited to the "lean back experience" you get in a home theater setting. With some special software, you can use most current-gen game consoles as media streaming devices. However I've found that setting up this software can be tricky at best, and downright impossible at worst. Or you could get one of a variety of media center set-top boxes. Unfortunately picking the right set-top box is challenging, mostly due to the wide variety of formats that downloaded anime comes in these days. Add to that the complexity of multiple audio tracks and subtitles, and you've got yourself a recipe for pain and disappointment.
Well, I have tried just about every set top out there and have found one that is just about perfect — the Western Digital WD TV Live.
It's a pretty small thing, about the size and weight of a small paperback book, and will easily fit in even the most crowded A/V shelf. It doesn't give off a lot of heat either. With connections for component and composite video, digital optical audio and HDMI, the WD TV Live will easily hook in to your other devices. It also has a USB port, which is used for expansion (more on that later) as well as storage — the idea being that you can plug in a USB hard drive full of media and play that. But that's not what we're really interested in: we want to be able to stream our media off of our home network. For that, the WD TV Live has a built-in Ethernet port. The WD TV Live is also capable of accessing WiFi, but that requires a USB WiFi adapter, sold separately. You can access your files off of your network using the Windows file sharing protocol, which fortunately pretty much every other OS speaks.
The user interface is functional, but a bit on the klunky side. Accessing some functions requires you to scroll through several levels of menu items. But it's not too bad. It doesn't have the elegant simplicity of an Apple product, but it isn't the worst I've seen either. You'll get used to it in no time.
Now here's the good news: the WD TV Live plays just about every video format under the sun. H.264, XviD, DivX, MPEG 1/2/4, WMV… it plays 'em all. I threw every oddball file I had at it and it played them beautifully. The only file it was unable to play was one particularly large (over 8 GB) MPEG-4; but that could have been because it was a bad file (I have problems playing that file on my computer too). And, best of all, it supports those pesky Matroska (MKV) files! Files with multiple audio tracks are supported. And subtitles are supported as well, in all the common formats (SSA, ASS, SRT, SUB, and SMI), both in "sidecar" files (subtitles in their own file) as well as embedded as part of the MKV file. Unfortunately some more advanced subtitle functions don't appear to be supported (different fonts, colors, on-screen positioning, etc.) but the subtitle support is good enough to where I'm happy. (A press of a button during playback will bring up a menu where you can easily switch between audio and subtitle tracks.)
The WD TV Live also supports playback of audio and photos, but I don't really see that as this device's real strength. (I suppose you could use it to show off your latest anime con pics, or listen to your favorite anime OST's or whatever.) However it also supports streaming content from several online sources, including Blockbuster, Netflix, Pandora, Flickr, YouTube and several others. Netflix, in particular, is of interest to us anime fans, as they now have a rather impressive collection of anime available for online streaming, and that collection is growing every day.
Finally, let's talk price. At $80, I think this is a really good deal for what you get.
Overall I am quite happy with the WD TV Live. My quest to unleash my anime from the confines of my computer, and bring it to the big screen, is now complete.
Pros:
Supports just about every video format under the sun (including MKV containers)
Supports subtitles, both as separate "sidecar" files (SSA/ASS/SRT) as well as embedded in MKV's
Supports most of the popular Internet streaming video sources.
Cons:
User interface is a bit clunky, not as elegant as an Apple product
WiFi support only with purchase of a separate WiFi adapter
only supports Windows networking (SMB)
does not support some advanced subtitle attributes (fonts, color, etc.)
Overall Rating:
Rating: