Anime Expo 2011 Day 1 has drawn to a close. Actually we've been here since Thursday, aka Day 0. So at long last here is our writeup!
Day 0 was spent mostly getting here, followed by press interviews. We had the great honor of interviewing Fred Gallagher of MegaTokyo fame, as well as the multi-talented Taliesin Jaffe. Those should be hitting the podcast feeds along with our inevitable panel discussion recap episode of doom.
We then trekked over to the LA Convention Center for press badge pick-up. We had a bit of difficulty finding it, but were eventually able to get there. Fortunately there was only a short line, not like the line of gargantuan proportions that was the pre-reg badge pickup line. Press badge pickup went pretty smoothly.
We were in a rather unique situation in that we are both press, as well as disabled. They weren't really expecting this odd twist, and it took us a while to get referred to the proper people. Coordinating badge pickup, ticketing, etc. for the disabled is still one of their weak points; there was an awful lot of walking back and forth involved. However we can't fault the staff, as everyone was friendly and willing to go the extra mile to help out. The AX staff is making a conscious effort to educate their staff and volunteers on good customer relations.
Unfortunately the same can't be said for convention center staff. For one thing there is still a definite shortage of them. Last year this lack of personnel led to a rather disastrous accident suffered by one of our panelists; fortunately, so far, knock on wood, we've escaped unscathed this year. However one run-in with con center staff left a decidedly sour taste in our mouth. Due to physical disability we had to take a taxi to the convention center, and as the driver was pulling up to the hall we wanted to exit at, a con center staffer rushed up and accosted us saying that we couldn't even pull up there. This greatly angered our driver, so much so that he even offered to give us a reduced fare if we called him when we needed to return to the hotel.
We didn't make it to the con until late afternoon, and as a result we missed a few industry panels, at which some rather interesting announcements were made.
First up, the NIS America panel, NIS America is a company better known for its English localizations of popular Japanese tactical role playing titles such as Disgaea and Phantom Brave. What many people don't know (well, at least what I didn't know until now) is that they also license some anime titles. And they came out with two rather interesting announcements in that vein. They announced that they have licensed Kimi ni Todoke and Dororon Enma-kun for North American distribution. Kimi ni Todoke came as a welcome surprise, and I so called this one in our 2010 wrap-up episode. KnT is an absolutely sweet, endearing story and one that anyone, not just shoujo fans, will heartily enjoy. Expect it to come out in two sets of 13 episodes each, with the first box shipping sometime in October, and the second one shipping at some unspecified later date. However, it's the licensing of Emma-kun, a strange and rather poorly rated horror-comedy, and a rather old one at that (originally aired in 1973), that has the anime blogosphere flummoxed. Ain't it Cool Anime News remarked, rather incredulously, that "that's about the least expected anime license ever," while Narutaki of the Reverse Thieves quips, "This might be the most poorly thought out license of the year." There's no news about release dates, only that they hope to have more information by next year's Anime Expo. So don't expect this one anytime soon.
Next up is Right Stuf/Nozomi Entertainment, who announced that it has acquired the license for more of the (original) Dirty Pair as well as Dirty Pair Flash, Gasaraki, and Martian Successor Nadesico, along with the Gekigangar 3 video. This is welcome news for us old school anime fans. I'm particularly looking forward to the re-release of Nadesico, as this is a great title for relative newcomers to the genre which I have been unable to recommend since it's been out of print for a while.
At the Aniplex USA panel, we learned the exciting (but not terribly surprising, at least IMHO) news that Puella Magi Madoka Magica has been licensed. (Although this was suspected for a while now, since they registered the domain for an apparent US Madoka Magica website late last month, and the site went live early this morning and was noticed by sharp-eyed net stalkers.) This series has been generating quite a bit of controversy on the intarwebs, and has turned the whole magical girl genre on its ear, and it's no surprise (at least to us) that it was snapped up — the only surprise was that it took them this long to do so. They also announced that they picked up the license for Blue Exorcist; the first of four DVD volumes will ship in October, with the remaining volumes tentatively scheduled for January, April and July of next year.
Viz announced that they will be releasing Professor Layton and the Eternal Diva as well as Bleach: Fade to Black – Kimi no Na o Yobu, joining the over 9,000 other Bleach properties out there. Bleach is due out on November 15 on both DVD and Blu-ray, while no details of the Professor Layton release have been announced yet.
Finally, FUNimation announced a veritable cornucopia of releases, including Deadman Wonderland, Steins;Gate, Baka to Test, B Gata H Kei (to be known as "Yamada's First Time"), and Asobi no Iku yo! (previously known as "Bombshells from the Sky," but apparently now to be called "Cat Planet Cuties.") They also added DVD, Blu-ray, digital and broadcast distribution rights for the anime "C." B Gata H Kei, in particular, is a fun and funny story about a girl, Yamada, and her quest to garner 100, ahem, "sex partners" before she graduates. Scandalous as this plot may sound, IMHO there is comparatively little hanky panky in the actual show — yes, maybe some mildly suggestive scenes, but nothing compared to a certain other infamous title. It plays out as more of a saucy and funny romantic comedy. Hopefully its US release won't generate the same controversy it did back in Japan.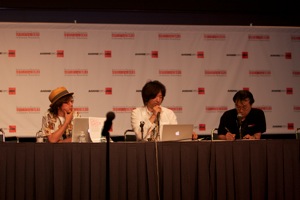 The one panel we did make it to was the Hatsune Miku Keynote, hosted by Hiroyuki Itoh and Wataru Sasaki of Crypton Future Media, the creators of Hatsune Miku and other Vocaloids, and the #1 music software distributor in Japan. To say that Crypton, et al created Vocaloid is somewhat of a misnomer; Vocaloid is a software speech synthesis engine developed by Yamaha, who licenses it to other companies (such as Crypton) who then take it and marry it with voice data to create a unique singing software. (Hatsune Miku was created based on voice data sampled from voice actress Saki Fujita.) Vocaloid, the software, is neither an anime, nor a character. In fact, Crypton's earlier Vocaloid-based products were sold as plain old software, with no Hatsune Miku-like character. Hatsune Miku, in fact, was created as a marketing tool to make the software appeal to a wider audience. And boy, did it work. Hatsune Miku and friends now enjoy worldwide popularity thanks to events such as the Hatsune Miku concerts. This year's Anime Expo marks the North American debut of the "Mikunopolis" concert; previously only highlights of this show were shown at the New York Anime Festival.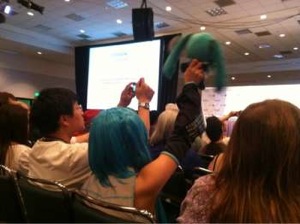 To be completely honest, they also owe their popularity to the Internet and the creative people that take these tools and make cool new things based on them. And they know this very well. In fact, in a move that's completely counter to how agencies here in the west handle things (I'm looking at you, Hollywood, MPAA and RIAA!), Crypton freely encourages fans to take their works and make derivative works based on them. They directly attribute Hatsune Miku's popularity to video sharing sites such as YouTube and NicoNicoDouga, which bridge the gap between those people who create and listen to music, normally independent and isolated. These sites facilitate what they call the "chain of creation" – where someone creates something, posts it for others to see, and then people see it and create their own derivative works – truly an example of the long tail philosophy at work. They've created a website, Piapro, to facilitate this sharing of music, lyrics, and video. There is only one hard and fast rule to this site: if you post something, you must let others derive from it; And if you modify something, you must acknowledge the original creator. A brilliant example of the Creative Commons license at work. Crypton themselves provide the original permission for people to derive from their content. (Not only do they tolerate people deriving from their work, they actively ENCOURAGE it.) Take, for example, MikuMikuDance, which we've written about before; a really powerful 3D animation program that could be sold for real money, yet is freely given away, to encourage fan creativity. They realize that increasing popularity leads to merchandising opportunities such as CDs, books, and even cookies(!). Of course there is the famous Sega Project Diva games, where they consciously made every effort to use user-generated content in the game — costumes, character designs, even loading screens. Compared to Hollywood's top-down creation process, the Hatsune Miku universe demonstrates a more bottom-up approach, a new way to create work. And Crypton is very conscious of remaining sensitive to the creative community's needs. Case in point: their newly-created social networking site Mikubook, a social networking site that allows users to recommend videos, illustrations and music to their followers, with emphasis on Vocaloid-related products. Users can also connect with other people easily, and can log in to the site using their existing Twitter or Facebook credentials. Although this site is still in an early beta phase (it was birthed only one month ago), work on it is progressing rapidly.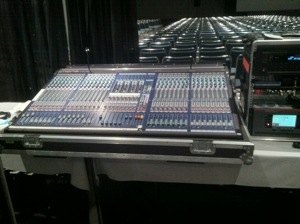 And finally, the highlight of our evening: the Anime Music Video contest. I say this all the time, but the entries just keep getting better and better. Unfortunately there were once again a few (in our opinion) mis-categorizations: some videos in drama that felt more like comedy, which, we think, is rather unfair to the rest of the competition in that category. And there was one video in particular that pretty much nailed it in terms of emotional content and matching the music's mood with the anime content, but I just couldn't vote for it because of a glaring technical error, a field order problem that caused all motion to appear strangely stuttery. This year also marked the debut of a new category, "Fun," that is basically a catch-all for anything that doesn't really fit anywhere else. Being a new category, however, its entrants were ineligible for the "Best of Show" prize. However (again in our opinion) some of the best (certainly the more funny) of the videos were in this category. There were also some, shall we say, not entirely safe for work entrants, especially in comedy. This has been a concern for some of our co-hosts in years past, in that exposing children to these type of videos might not be such a good idea. The AMV staff have finally acknowledged this, and are apparently going to make the AMV event an "18+" event starting next year.
That about does it for this update. Busy schedule tomorrow, including what could quite possibly be the highlight of the entire con, the Mikunopolis concert!

J-List is a peaceful island of Japanese pop culture for you