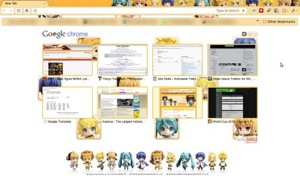 Your web browser. You stare at it every day for hours at a time. I bet you that by now it looks pretty drab and boring to you. So why not dress it up with a theme? And, if you are a Google Chrome user, I've got just the themes for you!
Are you a fan of nendoroids – those amazingly cute chibi renditions of your favorite anime characters, created by Good Smile? Well then check out the Good Smile theme! (pictured here)
If you just can't get enough K-ON! – after all, the DVDs and Blu-rays are right around the corner – then by all means check out the K-ON! theme. (yes, you know that some sort of K-ON! related item would be involved…)
And finally, if, like pretty much the rest of the world, you've caught a bad case of Vocaloid fever – then the Hatsune Miku theme will be right up your alley.
All of these themes are of course completely free and work on any computer/OS that Google Chrome works on (which means pretty much all of them).

J-List is a peaceful island of Japanese pop culture for you