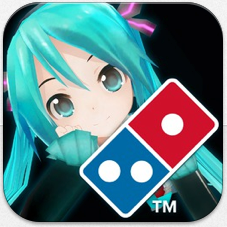 As anime and other facets of otaku culture become more mainstream, Japanese companies have started to wake up and take notice, and have started marketing their products and services to the otaku demographic. Oftentimes products and services use some form of anime mascot character, while other companies opt for tie-ins with popular anime titles such as Madoka Magica, K-ON! and the like. Well the latest company to adopt this trend, and the one that's generated quite a bit of buzz in the otaku community recently, is Dominos Pizza. They've decided to team up with none other than famous Vocaloid diva Hatsune Miku in an all-out ad campaign, including original songs, a Dominos-inspired outfit, itasha-ized delivery vehicles, and concert DVDs and Blu-rays. Apparently Miku-chan has been Dominos' "virtual spokes-idol" for a while now, and has been used in various ad campaigns by the company, which, if the Internets are to be believed, have proven to be quite successful. (Note: Sankaku link, may contain or link to NSFW content)
Well their latest marketing tie-in has generated quite a bit of buzz — a really cool iOS app. You can of course use the app to order pizza (but only if you're in Japan; see below.) Throughout every portion of the app you can enjoy the various Hatsune Miku-related art and music created by the Dominos' crew. You can also take augmented reality photos which include Hatsune Miku in various poses and wearing various expressions. And by pointing the camera at a Dominos' pizza box, you can turn on a "virtual stage" mode where Hatsune Miku will perform. (Don't worry, you can trick the app into activating this mode using this image.
Unfortunately the app's order function only works if you're in Japan, but the app is available for free in all iTunes App Stores worldwide, and the non-pizza-ordering portions of the app function normally. Plus it's cute and fun to play with.
Go grab the app today – it's free on the iOS App Store. Also, check below the cut for a few videos from the Hatsune Miku ad campaign, as well as a hilariously bad video of Dominos president Scott Oellkers demo'ing the app and showing off its features.
.
.
.
.
.
.
.
.
.

J-List is a peaceful island of Japanese pop culture for you