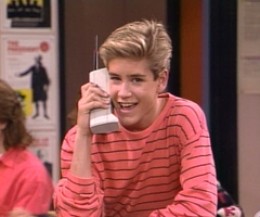 Edit 2011-09-08: Thanks to everyone who participated! Everyone had a good time, and we'll definitely be doing something like this again. Keep an eye on the website for an announcement of when the next one will be. I'm editing the recording I made of this event and I'll be putting it out as a series of podcast episodes over the next few weeks.
Well, September 1 has finally come, meaning that this upcoming weekend is Labor Day. Time to kick back and relax, fire up the grill, enjoy the last dog days of summer… and, oh yeah, take part in the Otaku no Podcast Live Call-in Show of Doom!
As I mentioned before, this is something I've been wanting to do for quite some time. Basically, I am envisioning a sort of live group call-in show where hosts, co-hosts and guests can drop in and out at will. What will we talk about? Whatever you want, and whatever strikes our fancy. The summer 2011 anime season, anime conventions you've been to, your favorite (and not so favorite) anime/character, whatever…
We will be "on the air" through the afternoon and evening, starting at, let's say, around 4 PM Pacific time, and going on until either we have nothing left to talk about, everybody else has left the call, or we've all passed out. (These times may change – I'm still waiting to hear back from some potential participants to see what times work for them. If I have to change the times, I'll update this post.)
Now, it should go without saying that for something like this to really work, we need your help! Call in and join the discussion, won't you? Now's your chance to tell the world about why (insert name of anime) is the greatest in the world (or sucks worse than a sack of wet gym socks), or what your latest doll or figma acquisition is… anything goes, providing that it's even vaguely related to anime (or manga – this is something I don't know that much about, but would like to learn more)
Here's how you can participate.
Via Skype:
If you have Skype installed on your computer, in most cases, clicking this handy link will launch Skype and automatically dial in for you.
If that doesn't work, just open Skype's "dial pad" and dial in this number: +9900827047586112 This is a free Skype call and you don't need to be subscribed to SkypeOut for it to work.
Via phone:
(201) 793-9022 (long distance)
(888) 350-0075 (toll free)
Please use the long distance number if possible. This shouldn't be a problem for most people — most cell phone plans these days have free weekend calling as well as free long distance, and for those using landline phones, reasonably priced "phone cards" (MCI, Sprint, etc.) can be purchased at many grocery/drug stores as well as Costco. If this is not doable for you, then you can use the toll-free number, but since this service costs us extra, we'd prefer it if you didn't.
Once you've joined the conference:
IMPORTANT NOTE: If you are asked for the Conference Room Number, it is 7586112.
You will be asked to speak your name. It doesn't have to be your real name – feel free to use whatever you go by when on the Internets.
If, once you join, all you hear is cheesy elevator muzak, that means you are the only person in the call. Congratulations. You can either wait around for someone to join you, or better yet, keep an eye on our Twitter; we will tweet when we start and stop the live call.
If all you hear is silence, then either we are all off doing something else, or we've all passed out, or there is something wrong with the conference call. Be patient, and again, keep an eye on our twitter to find out what's going on.
If you just want to listen in…
If all you want to do is listen in, we've got you covered there as well. Our streaming Internet radio station Otaku no Radio will be interrupting its usual broadcasting to bring a live simulcast of this event.
If you already have a program capable of playing Shoutcast radio streams (iTunes and Winamp are two popular free ones), this link should launch your player and tune in to the stream. (If you're a Google Chrome user, you might need to use this link instead.) Otherwise you can listen in directly on your web browser (assuming your computer, tablet, or other listening device of choice supports Flash) by loading up the Flash based stream player.

J-List is a peaceful island of Japanese pop culture for you