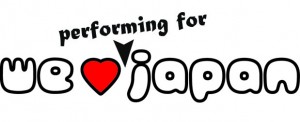 We Heart Japan, a charity organized by several individuals including anime voice actress Stephanie Sheh, will be holding another charity event next month in Southern California.
We Heart Japan made news earlier this year when, less than 1 week after the March 11 earthquake and tsunami, they organized an event that, in spite of its hastily put together nature, managed to raise a very impressive $13,000. (OK, fine, I'll say it…)
Well, they're back for another go. We Heart Performing for Japan is coming to the Theatre of Arts Arena Stage, 1625 N. Las Palmas, Hollywood, CA 90028, for one night only, Saturday, October 1, from 6:00 to 8:00 pm. Headliners include Mari Iijima, known as both the acting and singing voice of Lynn Minmay from the classic Super Dimension Fortress Macross (and its American adaptation Robotech); also, the English cast of an "unannounced classic anime series" will be reuniting to perform a live reading of an episode (a little birdie landed on my shoulder and whispered in my ear that it might be Cowboy Bebop). Other guests include Beau Billingslea (BLEACH, FRANKLIN & BASH, NARUTO); Steve Blum (COWBOY BEBOP, FINAL FANTASY VII, GURREN LAGANN); Melissa Fahn (DIGIMON, FLCL, BLUE DRAGON); and Wendee Lee (BLEACH, THE MELANCHOLY OF HARUHI SUZUMIYA, MAGIC KNIGHT RAYEARTH). Prizes will be raffled off throughout the evening as well.
Tickets are $40 for general admission and $60 for premium/reserved seating (which includes an exclusive gift bag) and must be purchased online. All proceeds will go towards the Japan NGO Earthquake Relief and Recovery Fund, a joint venture between the Japan Center for International Exchange (JCIE/USA) and JCIE/Japan dedicated to supporting relief efforts in Japan.
Come out and show your support!

J-List is a peaceful island of Japanese pop culture for you