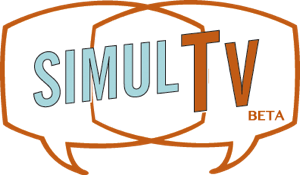 Can't make it to AX this year? That's too bad. With an impressive guest roster and a huge lineup of panels and other con events, AX 2013 is shaping up to be a pretty happening event.
Well, if you can't make it, here's something that may take a little of the sting out of that disappointment. A newcomer to the streaming video scene, and one that I honestly hadn't heard of before now, SimulTV, will be livestreaming some of the key AX events, including opening and closing ceremonies, fashion shows, some of the industry panels as well as the Cell, Kaya and Moonstream concerts.
They're also taking the opportunity to announce their new streaming anime-on-demand service, which lets you watch episodes from many popular shows at $0.99-2.99 a pop. You can get a free 14-day trial by signing up for a SimulTV subscription during AX, either online or by scanning the QR code available at the SimulTV screening room, which is room 405.
SimulTV is available on most computers and mobile devices and offers on-demand streaming of a variety of titles, both anime and non-anime. They bring a unique social aspect to the table as well, allowing you to add social features such as voice/video chat, twitter, Facebook, and search, all right within the video playback window.
Check out more info here or at the SimulTV website. You can also sign up there.

J-List is a peaceful island of Japanese pop culture for you