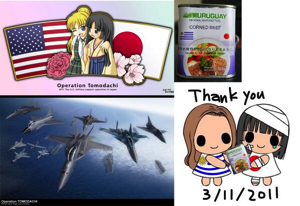 Okay, so it doesn't have quite the same ring to it as that famous verse commemorating another infamous day in history. But March 11, 2011 is still a date that we should all keep in our minds and in our hearts. For it was three years ago today when the horrific Tohoku earthquake and tsunami hit an unsuspecting Japan, resulting in thousands of dead, injured and missing, and untold millions of dollars in property damage. Entire towns were washed off the face of this earth, and many people saw their livelihoods vanish in the blink of an eye.
Even after 3 years, both the land as well as the people are still scarred and in shambles. Recovery efforts will likely continue for years to come, many families and individuals are still homeless and in need of work. And those who lost their loved ones… well, that kind of wound never heals. And the country as a whole is still reeling from the economic impact of this disaster. Japan is also still facing a very real threat in the Fukushima nuclear reactor situation, which continues to leak dangerous nuclear waste to the environment.
This disaster brought out the worst in humanity. Almost immediately the scammers took advantage of our compassion and generosity to line their pockets. Then there were the religious nutjobs, so-called "environmentalist" whackos, politicians with an agenda, and various other mean-spirited asshats who came out and said that Japan deserved it. Here's hoping that these wastes of oxygen go die in a fire.
But it also showed that humanity still has a heart, and is capable of much good and compassion. Immediately offers of financial assistance came pouring in from countries large and small. But even more impactful were the offers of physical assistance, both from the military as well as countless civilian organizations – even individual citizens. Many are still on the scene today.
I remember the night of March 11, 2011 well. I had been busy all day working on some code for a work project. It was around 10:45 and I decided to take a break and get a snack and check in on Twitter, email, etc. Then I started seeing tweets coming in about a terrible earthquake in Japan. Information was still quite sketchy during the early hours of the disaster. Finally someone who had access to a good news source fired up Ustream or some other streaming video app on their smartphone and pointed it at their TV. Fortunately it was an international channel so it was being translated into English. As I watched the horrible pictures of destruction and devastation come in my heart sank. I began to worry about the four Japanese exchange students we hosted several years ago, hoping and praying that they weren't in an affected area. (Fortunately they were safe.) Later I got word that the crew of the AX Live webcast/podcast/videocast, who were coincidentally livestreaming and recording an episode when the earthquake hit, decided to continue the livestream and provide news coverage of the earthquake and related news. And, damn it all, they did a bang-up job bringing us the news. They did some real journalism there. Of course they also did some opining along the way, but they clearly indicated it as such when they did. I just could not sleep that night. The news was riveting, plus there was a possibility that the Southern California coastal community in which I live might get some of the tsunami, so I needed to be ready to GTFO if necessary. I kept one eye on the AX Live broadcast and another eye on Twitter, along with several local news websites, and I also tuned in some local radio stations on our emergency radio. Fortunately it turned out not to be a concern for our area. The water may have risen a bit, I'm not sure, but that's about it. Sadly, others weren't so lucky. I gather Hawaii was hit rather hard. And, up the US West Coast a ways, someone was swept out to sea and lost his life. Anyway the AX Live crew went above and beyond the call of duty and continued their excellent coverage, going on until 4 or 5 AM the next morning. Finally after they stopped coverage and the rest of the news started to get repetitive, and when I was convinced that nothing was going to hit me, I went off to bed. But the rest of the weekend I was in a daze, it almost didn't seem real. I remember it well because that next day (Friday, March 12) was the day that the iPad 2 was released. I still went to our local Apple Store to buy one. But normally on an Apple product launch day, I am like a kid in a candy store who has gotten hopped up on way too much sugar even before he got to the candy store. And yet, on that day, I was in a weird, somber, almost surreal mood.
I urge everyone reading this to keep that infamous date, March 11, 2011, in their minds and hearts. What we must remember is that, even though it's been 3 years, it ain't over yet. Not by a long shot. There is still a ton of cleanup and rebuilding to do. If you are in a position to where you can volunteer your time and physical strength, by all means do so. Otherwise, please consider donating. There are still a ton of charities desperately in need of money to keep on going. And perhaps you should check out the film Pray for Japan. Not only is it a somber yet hopeful and ultimately uplifting story that really shows the compassion and dedication of the volunteers, as well as the resolve of the Japanese citizens, but all proceeds from the sale of the film go towards charities providing relief efforts.

J-List is a peaceful island of Japanese pop culture for you