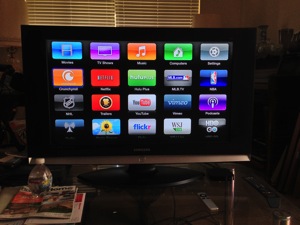 Updated with a note clarifying that the overscan bug I mentioned is not a problem specific to the Crunchyroll app, but affects all content played through the Apple TV
Big news if you own an Apple TV, Apple's answer to the set-top box: you can now haz your Crunchyroll on it!
Crunchyroll is, in our not-so-humble opinion, the best thing to happen to anime fans since, well, the invention of anime itself. Streaming anime on demand, 24 hours a day/7 days a week, in HD quality (up to 1080p), with full English subtitles. Best of all, members get to watch currently airing series literally hours after they are released in Japan. All of this for a low monthly fee (as low as $5/month), which goes to benefit the anime creators themselves. And now, if you own an Apple TV, you can enjoy your Crunchyroll on the big screen!
You need to be running the latest version of the Apple TV software in order to get the new Crunchyroll app icon. Go to the Settings screen, then tap General, then Update Software. Once the software update is complete, you will see the orange Crunchyroll icon on the main Apple TV screen. You might have to scroll down a little bit to find it. Once you've found it, if you want to move it to a more prominent place, press and hold the center button on your Apple Remote until all the icons start wiggling, then use the direction buttons to move it where you want. (Unfortunately you can't put it in the top-most row of icons, which are reserved for the Apple apps. :P)
Tapping on the Crunchyroll app icon brings you to a screen where you can watch previews from the latest shows, and sign up for an account if you don't already have one. However we humbly ask that you use our handy-dandy affiliate link to sign up; it costs you nothing extra and gives us a little "somethin' somethin'" that helps keep the lights on and the bandwidth flowing.
Anyway once you've logged in to your account, you are brought to the main screen, where you can view your queue, browse through the various titles available, and perform searches. You can choose to view available titles grouped by various criteria (featured/hot titles, by genre, by season, etc.) or you can drink from the firehose and view a list of everything. When viewing your queue, you can either view it by series, and you can also view a history of what you've been watching recently. (Note that I said "viewing;" unfortunately you cannot edit or otherwise manage your queue through the Apple TV app. You'll have to log in to the CR website on your computer to do that.)
Once you've selected a series to watch, tapping into it will show a general synopsis of the series. You can also automatically stream it from the beginning; great for those marathon viewing sessions that people like to do sometimes. Or you can scroll through the episodes, viewing a synopsis and screenshot of each. Once you've selected an episode, you get a more detailed synopsis, a listing of related shows (great for finding new content that you might like as well), and a big "play" button.
The app performed quite well; navigating is fast and fluid, and playback is smooth and stutter-free. Quality looks amazing, definitely above DVD quality, and perhaps even on par with Blu-ray; however the quality varies by show — not all shows are available in HD. Unfortunately, unless your TV supports overscan compensation (sometimes called "true pixel mode," "full pixel mode," or "1:1 mode") you may see parts of your screen cut off. This is particularly annoying with subtitles, as depending on which series you are watching, some of the subtitles are placed so low that they fall within the area of the screen that is cut off, meaning that you lose part of the subtitles. Unfortunately there's no way around that, except to get a new TV. Fortunately only older/cheaper HDTVs suffer from this overscan problem. (Note: This is not a problem specific to the Crunchyroll app. Any content played on an Apple TV, whether it is through the native iTunes app, Crunchyroll, Youtube, etc. is susceptible to this overscan issue.)
It is great to see Crunchyroll joining the list of channels on Apple TV. I had been thinking about getting a home theater PC or a PS3 or something similar so I could watch CR in the living room, but couldn't really justify the cost since the device would only be used for that. Now that CR is on the Apple TV (which I already have hooked up to my living room TV), that is no longer an issue.
Check out our gallery of screenshots below the cut.
[flickr-gallery mode="photoset" photoset="72157634236748046″]

J-List is a peaceful island of Japanese pop culture for you