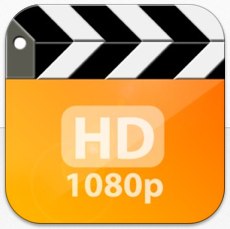 UPDATE 06/17/2013: The developer of HD Player Pro has now made the app free, with a $1.99 in-app purchase to enable MKV support. Go download HD Player from the iOS App Store using this link.
A while ago I wrote about my quest for a way to enjoy my downloaded anime while on the go on my iPad and/or iPhone. At that time I had settled on an app called ProPlayer, which, while far from perfect, worked well enough and satisfied my needs.
Unfortunately it appears that the app is no longer available for sale. It has completely disappeared off the App Store, apparently a victim of a new aggressive policy by Dolby Labs of going after app developers who use their AC-3 and TrueHD audio codecs in their apps. While most of the other apps which were affected by this new policy were simply updated to remove AC-3 support, the folks behind ProPlayer have apparently decided to give up for good and pulled the app entirely out of the App Store.
This may have been a blessing in disguise however, as it forced me to go looking for a new player app. Even though I still had ProPlayer installed on my device and could still use it, I nevertheless wanted to find a better player: I wanted a player that would work on both the iPhone 5 and the iPad, and would take full advantage of the iPhone 5's new widescreen display, which ProPlayer doesn't. And I believe I have found one that's even better than ProPlayer – HD Player Pro.
At first glance HD Player Pro may seem like any other of the over 9,000 video player apps available on iOS. In fact, digging further into the program's user interface, I found that its user interface is clunky compared to ProPlayer. There is no support for creating folders and moving files into them. The app does support playlists (which somewhat mitigates the lack of folders), but adding and removing files from playlists is somewhat clunky, and you can't re-order items within a playlist (it's always alphabetical). Also there is a search function, but it appears to be broken. Update: Looks like they fixed the search function in the latest update, it's all good now. 🙂
But once you start playing a video, that's when you'll grow to love HD Player Pro. Why? Because HD Player Pro renders subtitles damn near perfectly — far better than any of the other video player apps I've tried. Not only does it support the three major formats — SRT, SSA and ASS — but it even renders most (if not all) of the advanced features of SSA/ASS — fonts, colors, text positions, etc.! It is truly a thing of beauty to behold. And, like I said, it does this pretty damn perfectly — out of the many files I've thrown at it, it only failed to properly display one small segment of subtitles (it was a title sequence in UTW's Accel World where they were apparently doing something fancy to display their logo in a cool stylized manner).
The other bane of my existence has been the newfangled Hi10p file format that all the cool kids (and the cool fansubbers) are using these days. Most of the apps I've tested have been hit or miss with these files. Some work, some don't. The good news is that HD Player Pro does a pretty good job at decoding them — if you've got the right CPU for the job. Unfortunately you need a pretty beefy CPU to do this without introducing jerkiness/dropped frames. The iPhone 5's A6 chip is powerful enough, and I would wager so is the A6X in the new iPad; however the A5 chip in my iPad mini doesn't cut the mustard. (Why oh why didn't they at least put an A6 in the thing?!) So until they release the next iPad mini which (HOPEFULLY) will add a newer, faster processor, I am forced to transcode my Hi10p files (or download non-Hi10p versions, which are becoming much scarcer these days).
Unfortunately there are a few little issues that prevent me from giving the app a perfect score. There is the whole clumsy file management issue I mentioned earlier. Sometimes seeking within a file (quickly moving to a certain time point in the file) causes the app to go catatonic. Also I've had the app crash or freeze every now and then when starting playing a new file (usually restarting the app fixes this). Update: Looks like they've fixed these bugs. Seeking works beautifully now (even on large movie-length files), and I haven't noticed any crashes since their most recent update. So, yay! 🙂 But the beautiful subtitle rendering makes up for all of these shortcomings.
So I have once again found the perfect mobile video playback solution. At least until fansubbers stop including MP3/AAC audio tracks in their files and only include AC3 or TrueHD audio tracks. Then I'll have to go off in search of another solution. sigh
The app works on all iOS devices (iPhone, iPod touch and iPad) running iOS 5.0 or later, although if you want to be able to decode Hi10p files natively, you'll need an iPhone 5 or a third or fourth generation iPad. Go grab the app today for $2.99 free (with a $1.99 in-app purchase to enable support for various codecs including MKV) on the App Store — well worth every penny IMHO. (Ignore the low rating and negative reviews in the App Store; they are from disgruntled users who didn't know about or do not understand the Dolby AC-3/TrueHD removal thing, and are loudly complaining about why their files are suddenly playing back without any sound.)

J-List is a peaceful island of Japanese pop culture for you