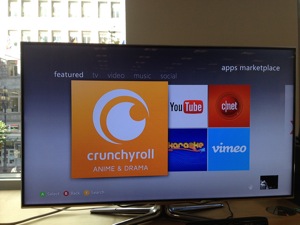 Do you own an Xbox 360? Would you like to experience fully 100% legal, 24/7 on-demand streaming anime goodness from the comfort of your own home? Then you'll be pleased to learn that our favorite streaming anime provider, Crunchyroll, is now available on the Xbox 360!
To install the app: 1. Launch Xbox Live Marketplace then go to Apps -> Browse Apps. 2. Currently the Crunchyroll app is one of the Featured Apps; however if it isn't there, you can find the app by going to Video -> See All Apps, and scroll all the way to the right (where all the new apps show up). 3. If you don't see the app, use the Search function and look for "crunchyroll."
If you don't have a Crunchyroll Premium Membership, you can stream the first episode of all currently simulcast shows. Log in with your Premium Membership ID to access all episodes, your Queue, and you can even share what you're watching with your friends. (And why on earth haven't you gotten your Premium membership yet?!) All videos stream in 720p (when available).
The app is available in the Xbox Live Marketplace (unfortunately the app is not available in Japan, Slovakia, Saudi Arabia, and the UAE). Check out this CR forum post for more details. And if you decide to sign up for a Crunchyroll Premium membership, be sure and sign up using our affiliate link (this helps us out and does not cost you anything extra).

J-List is a peaceful island of Japanese pop culture for you