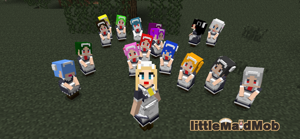 I've written before of my love for Minecraft. With its completely open-ended sandbox gameplay, beautiful landscapes and caverns to explore, monsters to fight, items to craft and tremendous potential for creativity, it's truly a game without limits. Plus it has a vibrant community of modders who have come up with all sorts of interesting hacks and mods to the game.
But all of that in-game resource gathering and monster fighting can get tiring for a poor adventurer such as myself. Wouldn't it be nice if you could get some help with all of those mundane chores? A kawaii maid perhaps? Well with the LittleMaidMob mod you can!
Simply install the mod, and as you wander about, you will randomly encounter little maids wandering around aimlessly. Give them some cake and you've hired them. Giving them various types of items will change their role (swordswoman, archer, cook, etc.). Be sure and supply them with plenty of sugar or else they'll abandon you (they also use sugar to heal any injuries). Your maids can either adventure with you, fighting enemies that get too close and collecting resources as they drop; or you can have them patrol and guard your home base. It's pretty fun and really adorable.
Check out this forum thread for the download links and for instructions on how to install it, and check out this video (also embedded below the cut) for a demo of the mod in action, and instructions on how to use it.

J-List is a peaceful island of Japanese pop culture for you