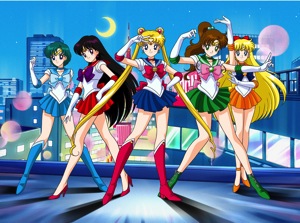 In our recent episode that took a look at what's coming up at Anime Expo 2014, we declared that this year's Anime Expo's "theme" is looking to be a cross between Sailor Moon and KILL la KILL. We also mentioned offhandedly that the original Sailor Moon was available for streaming at Hulu.
In fact, Viz Media has licensed all 200 episodes of the classic anime series, plus three feature films and assorted tie-in specials, for both streaming and physical media distribution. Currently, twelve episodes are up, and they will be releasing two new episodes every Monday (or "Moonday," as they like to call it.) This represents the first time that Sailor Moon has been broadcast in the U.S. for over a decade. Moreover, this will include the first North American release of the final television series, Sailor Moon: Sailor Stars. They are able to do this thanks to having recently acquired the license from Toei.
Viz is releasing the series with the original Japanese audio and English subtitles. They are also working on an all-new English dub with a brand-new cast, and will start releasing those later this year. For you physical media diehards, they will also be releasing the show in DVD and Blu-ray/DVD combo releases, in half-season sets, starting this fall.
Best of all, the show is being presented completely uncut and unbowdlerized. Content that was considered "questionable" back in the day and that was removed has been restored, and non-mainstream character relationships (i.e. yuri) have been restored.
The show is also being streamed on Neon Alley, which makes sense, since Neon Alley is Viz's own service. (Incidentally, a lot has changed at Neon Alley since we looked at it back in 2012. They've switched away from the "broadcast TV station" model to the more mainstream "streaming on demand" model that everyone else is using. They've added computer/web browser-based streaming, but have sadly removed their PS3 app, instead directing people to use the Hulu Plus PS3 app. But Neon Alley is now a free service, so one can't complain too much!)
So go watch it on Hulu or Neon Alley today!
Sailor Moon served as the "gateway drug" for many a current anime fan. Now it's poised to do the same to a whole new generation of fans. And that's a Good Thing.

J-List is a peaceful island of Japanese pop culture for you